Living in the car
Traveling to New Zealand is popular not only for its exceptional nature but also for its free lifestyle. Exploring all the corners of this beautiful country by campervan is only one of the ways it gives you freedom. You are not stressed or limited by waiting for a bus or having to book a hotel room. You can go "wherever" and whenever you want.
Are you hungry? Just stop the car at a beautiful spot with a view of the sea, lake or mountains and cook the lunch outside.
You are tired? Stop the car and have a nap in your bed in the back of the car.
Are you cold? Change your clothes. All your things and clothes you carry with you all the time. It's just an awesome way to save time by not having to pack, book hotels or look for restaurants. And the best thing is that you will not only save time but also a good amount of money which you can use to have more fun along the way.
Where to get a car
Everything starts with a good car. You have several options to pick from. If only you plan to travel for a short time, you can rent one. The easiest and most carefree option is to rent a car. It is also the most expensive option. If you are traveling on a working holiday visa or for more than a month, it is worthwhile to look into getting your own car. Buying and selling campervans is more than common here. Car fairs are constantly full of travelers' cars so you do not have to worry about finding one. The prices are affordable and are changing depending on the season. The transfer of the cars to the new owner is unbelievably easy. It will take you about five minutes at the post office. The advantage of buying the car is the possibility of selling it again and getting some money back before the end of your trip. If you sell the car at the right time in the right place, you can even earn more money than you bought it for. Learn more about this in our article Sales Cars.
Which car to choose
What car you choose depends on what you can afford and how much you care about convenience. It makes sense that while a self-contained car brings with it the highest comfort (the benefits can be found in the Self-contained article), the price is a bit higher. But if you are good at manual work then you can afford to buy a cheaper car and modify it according to your needs, which has many advantages.
You can make the car exactly as you want and need it.
You save money by buying a cheaper car
You make money by selling a modified car.
Buying your own car certainly brings some risks too.
The cars are old and they are usually sold from traveler to traveler, so they have already experienced a lot.
They can also have many hidden defects because of changing owners often.
Everyone just wants to save costs and only repairs the most necessary things. So you never know if something breaks right after buying or if you will bet the lucky one.
To avoid buying a bad car it is good to follow basic rules which you can read more about in our article Buying the car.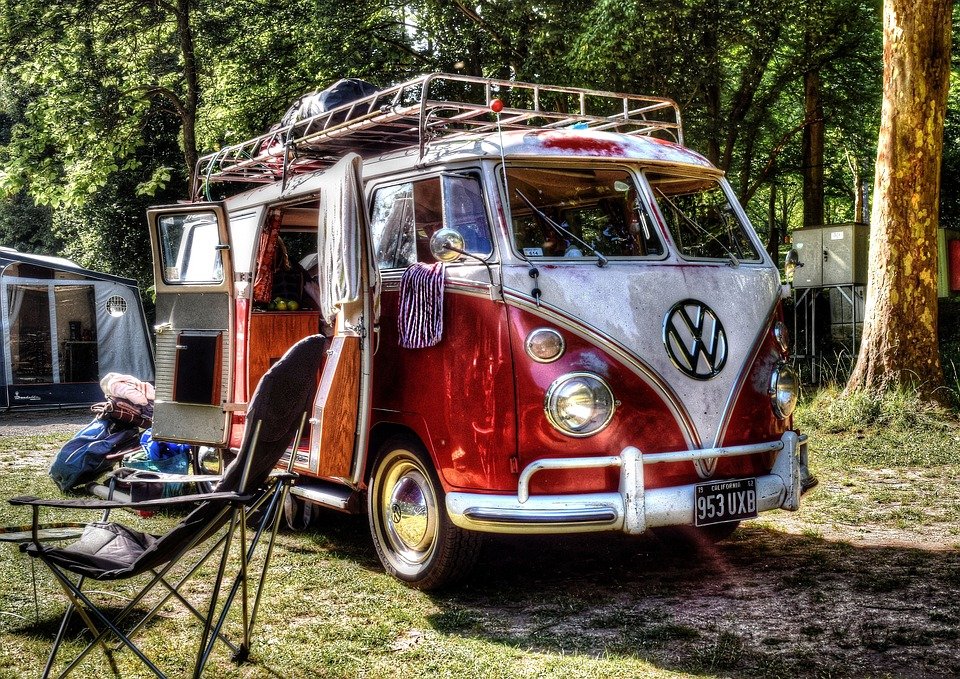 Certification
To have more options for your camping it's better to buy a certificated self-contained van because in that case, you can park in all public camps, including the free ones. In addition, you also have a sink, toilet and running water which can make your life much easier.
For the sake of simplicity, we will only talk about "real" (certificated) campervans in the article. How to get a certificate can be found in our Self-contained article. You can also read the prerequisites to getting it on an external site.​
Equipment
PORTABLE FRIDGE – Outside of mandatory standard SC equipment, you will definitely appreciate a portable refrigerator to get longer shelf life for your food which will make you less dependent on cities and shops. If you are not interested in buying a refrigerator you can at least use a cooler box with some ice inside (you can buy it at almost any gas station). In the worst case, you do not have anything try to find out what the coldest place in the car is so you can store your food there.
VOLTAGE CONVERTER - If you use electronic devices which need to be recharged in the car, then the voltage converter may prove itself to be very helpful. You can buy some at CheapAuto where the staff will help you to choose which is the most suitable for you.
CAMPING TABLE AND CHAIRS – It is more than comfortable to be able to enjoy your breakfast at the beach sitting in the chairs and watching the sunrise or just relax next to the car in the middle of nowhere.
GAS COOKER – - If you do not want to eat toast every day, then we recommend you buy a small gas cooker to prepare for your everyday meals. A cheap cooker will be enough to cook almost "anything" you want.
COOKING EQUIPMENT – It may be worth it to have some cooking equipment, like a universal frying pan, a small pot, something for stirring, a good knife and also something to eat out of such as cutlery and a few plates or bowls. A handy coffee /tea mug will also make you happy in the morning. Keep in mind that you can buy very good coffee in Zealand, so you might like to have some french press too.
FISHING EQUIPMENT - Cooking is closely related to fishing in New Zealand. As you probably know, you can fish almost everywhere in the sea (just comply with the local fishing rules) so your chances of catching a fresh dinner are quite good.
SOLAR SHOWER - This can be a handy tool especially for longer journeys. However, nearby lakes or public showers in the cities can also prove to be enough.
SLEEPING BAGS OR DUVET - As far as sleeping is concerned, it is up to you how much comfort you want to indulge in. You can solve the issue with a sleeping bag. But be aware that even during the summer season, temperatures can suddenly drop to zero in many places. Therefore, you probably will not regret the purchase of all-season or full-length winter duvets. During winter it is a necessity.
Purchase
If you plan on modifying your car, the Warehouse shop will be very useful in getting a lot for less. You can get cheap basic camping equipment there as well as home accessories etc. For parts you can visit CheapAuto and if you need tools or parts for working on the car than you will definitely have to visit Bunnnings too. Specialized quality equipment for camping, boating and so on can be found at Katmandu, Burnsco or perhaps at Fishing and Hunting.
For more information on individual stores, please read our article Shops.
Service
Be aware that your car is not just a way transport, but also your home so be sure to take care of it properly. Long, gravelly paths may put a lot of stress on the car due to vibrations, so make sure to check the operating fluids from time to time. Believe that this small investment will pay you back by discovering lots and lots of beautiful places without problems. The indispensable part of each car is also a valid Technical Assurance Certificate (WOF) and Prepaid Mile (REGO).
Do not forget reliable car insurance and a regular check-up at a car mechanic.​