Mobile operators
You have three major providers to choose from Vodafone, 2degrees, and Spark. The Spark Virtual Network operator is also operating on Skinny network, offering you more flexibility compared to Spark's regular monthly fees.
The SIM card of each operator can be bought almost anywhere (airport, gas station, shops). But beware - not all mobile networks are compatible with all types of phones. Because it works using GMS (Grant Management System). Therefore we recommend you to make sure it works directly at the operator's store or on their website (for example, Skinny website) before purchasing.
If you plan to buy a new phone before you go to New Zealand, just wait and do it there. You will be sure that your phone is going to work and you may also receive a special offer from the operator.
Mobile tariffs
The offers and prices of individual operators are changing and constantly adapting to the market. But they are usually comparable, so it depends on your individual preferences. Look into them and choose the one that best fits your needs. You usually won't have to sign a contract. Just buy a SIM card and recharge it with the amount you want each time. Then you choose a monthly or weekly rate that will automatically be withdrawn from the rechargeable credit. You can change the rate at any time.
Each operator additionally brings its own benefits to appeal to new clients. For example, Spark provides a number of "phone booths" across the whole of Zealand, near which wi-fi is available to their clients for free. This is very useful. Vodafone offers "Fantastic Friday Deals" on prepaid as part of the client's mobile app, which means that once a week (starting every Friday), you can randomly draw three great deals. E.g. 100 min calls to all networks or free minutes abroad, (which might include your homeland), or data at low prices.
Signal
Each operator has different coverage but none are strong everywhere. If you're not sure which one to choose, the map of signal quality in individual areas might come of use. This is especially useful if you plan to settle at one place for longer:
• Spark
• Vodafone
• 2degrees
The world-wide opensignal.com website is also mapping individual providers. When you enter the New Zealand site, a pop-up shows you all the available mobile networks and then a map of their coverage.
Coverage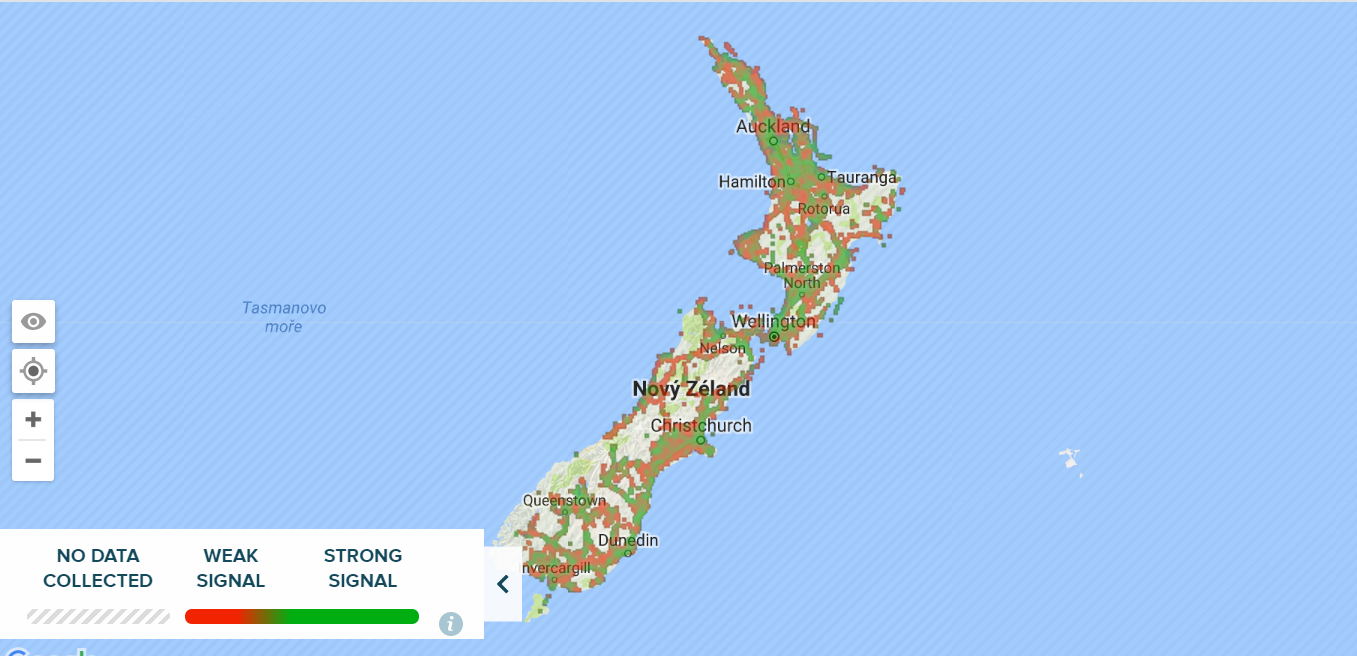 Zdroj: opensignal.com
Internet
The good mobile signal does not always equal good internet. Both are different in different parts of the country. The best at providing a high-quality 4G connection is most probably Spark / Skinny.
If you need to be online or depend on the internet a lot, be aware that public wi-fi networks in libraries, etc., are not always very reliable, and are often very limited. On the North Island, you can mostly connect to free wifi in almost every library, but it is a bigger issue on the South Island.
Reliability of coverage
When traveling, consider that you will often be without a signal, whether no matter the provider you choose. On tracks in nature, you can easily be out of the network for several days at a time. Therefore, do not rely on using your phone too much in this case. For this reason, it is also advisable to have offline or paper maps. Learn more about these in the Apps and Sites article, which we've also prepared for you.