Do you love adrenalin and freedom? Then you should not miss out on a surfing experience during your traveling in New Zealand. Surfing is an addictive sport which will affect the rest of your life once you fall in love with it.
Do you say you've never tried it before? Doesn't matter! There's a first time for everything.
We have prepared an article on Surfing for you in co-operation with Adam Žáček, a Czech surf coach in New Zealand, where you can find basic information about the best spots and how to choose the right board to help you with your first experience.
So, here we go...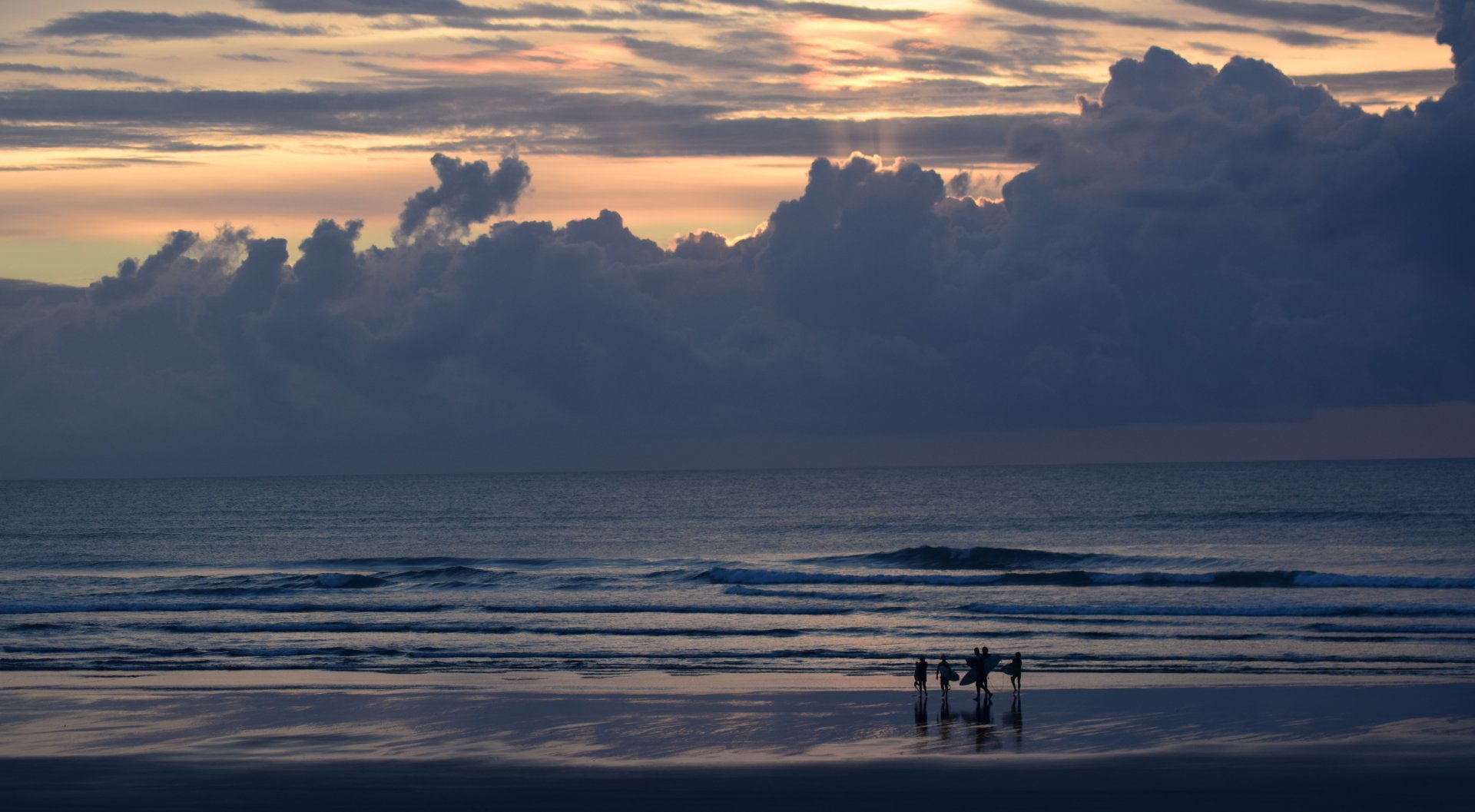 EQUIPMENT
In addition to the swimsuit, you will obviously need a surfboard, but also a wetsuit or at least a rash vest. And also make sure you do not forget some high-quality waterproof sunscreen.
WETSUIT
The main function of a wetsuit is certainly keeping the body warm. Its' other benefits are also protected from the sun and scratches from the sand, which can get stuck on the waxed area of a surfboard (they are where you are lying on your stomach), protection of scratches from hidden coral under water and so on. There are a number of wetsuits with different combinations of short and long sleeves but also with differing thickness. The thicker you choose, the warmer you will be in the water.
Each brand has slightly different patterns and sizes we always recommend trying it on before buying. The one you choose should fit your body as close to perfect as possible, and shouldn't leave a lot of air bubbles. In a dry wetsuit, you have to be able to move but it does not matter if it's a bit tight, because after a few hours in the water it will stretch out.
For surfing, a wetsuit with a thickness of 3:2 is ideal for water above 17 degrees, 4: 3 for temperatures between 15 and 17 and 5: 3 or 5: 4 for temperatures under 14 (in this situation it's also a good idea to get some wet shoes, gloves or balaclava ).
RASH VEST
If the water is not so cold, you can switch the wetsuit for a rash vest. A special shirt for swimming or water activities which still makes for good protection for you but is not that thick. You can also ride without it, but your skin will definitely not like it because you can quickly get a sunburn in the water you can also get scratched by the wax, which is applied to the top of the deck so that your feet do not slip. In addition, ladies will appreciate the fact that they won't have to keep adjusting their swimsuits.
HOW TO CHOOSE A SURFBOARD - THE BEGINNERS
We buy the board due to its riding characteristics not due to its appearance. By choosing an unsuitable board you will train yourself to make a big amount of mistakes you will not be able to get rid of later. If you are a beginner opt for buying a foam board which will help you get started.
WHY PREFER A FOAMY BOARD?
Safety - As a beginner, you usually do not have the board fully under the control and it may happen that you fall in the water and hit yourself in the head or hit your friend surfing nearby with your board. The foam board will not endanger you in any significant way whereas a laminate board can cause injury.
Stability – Foamy boards are much wider and thicker, which means they displace a larger volume of water (you do not get underwater easily) so are more stable.
Wave capture - Because of larger displacement and larger volume, it is also much easier to catch a wave or even the foam of a wave that no longer has the strength for other boards. It is ideal for learning take-off for beginners.
TRAINING AND FUN IN ONE
The more waves you catch, the more fun you will have. Every extra wave means a new experience for you. You are learning to be more stable and control the board. Hundreds of take-offs on foam water will surely help you more than a single pure wave.
TRAINING PHASES
After training a few take-offs on the beach, paddling, catching the foam and taking off in the water, the next phase comes. Soon you will find that standing up is not a problem anymore. It can be learned very quickly with good instructions. But what is more complicated is recognizing a quality of waves and learning which ones to go for. And that's another advantage of a foamy board –you can catch almost everything.
After training on foam water, you can move to the real waves. Where you won't need to concentrate on paddling as much thanks to the large displacement your foam surfboard. We aren't saying that it's gonna be easy but certainly easier than on a hardboard. You will be able to concentrate on training the ride itself which again will help your progress. If you feel confident enough while riding, then it's the right time to change the board. At this stage, it is ideal to move on to more advanced surfing.
HOW TO CHOOSE SURF - ADVANCED
Despite the advice above, do you still think you are too talented to ride on a foamy board (foam surf) and want to start directly on the hardboard? Then, we would like to recommend you buy an egg-shaped board which you can buy for example from Torque or NSP stores. They are almost rigid planks with a large displacement.
The priority at the beginning is simply to catch as many waves as possible. A longer board means better stability and an easier time catching waves. A shorter board means better control and faster turning. The choice may vary according to your body type.
UNIVERSAL MEASUREMENTS
The size of the surf is predominantly measured in feet (feet = ft).
Regular body shape - start from 8'0 ft.
Taller or bigger body shape - if you are very tall or weigh a lot you can pick one at 9'0.
Shorter and tiny body shape - just go for 7'0, but we certainly do not recommend choosing a surfboard under 7'0 to anyone.
The rule is mostly that when transferring to a hardboard from a 7ft foamy board, you should choose a larger size, such as 7'8 "8'2. It's different for everyone but for beginners, we recommend you choose something bigger.
DAMAGE
It is always better to choose an undamaged board that does not show any signs of use. But if you are looking for something on low-budget, then try toat leas follow this basic advice.
Always inspect and have a good look at the board before you buy it. You can see some scratches and holes in the advanced riders' surfboards. It's not a problem if they are well repaired (there is no water inside the surf). However, we recommend avoiding completely repaired surfs or surfs with broken noses (front of the surf).
How to recognize that board is heavily repaired? Avoid buying if the original whiteboard is yellow in many places. It is highly probable that it is completely soaked with water that you will never get it out. This kind of broken board is unusually very heavy.
Make sure you buy a full set with fins and leash. Because not every fin fits every surfboard and it can be a bit tricky to find a new one that fits.
WHERE TO SURF?
You can find surf such spots all over New Zealand. We have prepared some of the most popular for you:
NORTH ISLAND
The East Coast - the area around Gisborne and further south
Coromandel Peninsula
West Coast - There are some of the best-known spots as Raglan, with the longest left ride wave direction in New Zealand and probably in the world too. Piha is probably the second most popular surf spot in New Zealand.
Northland
SOUTH ISLAND
Westport
The area around Christchurch
Taylors mistake
St. Clare in Dunedin
Kaikoura - Kahutara (Point break)
If you have other recommendations to share, please leave a commet bellow, on facebook, or by email.
Recommendations from our surf coach Adam and some tips from him:
Best spot for beginners: Whangamata on the Coromandel Peninsula.
Difficult surfing: Piha, mostly due to strong currents and a large number of people.
For advanced: Definitely try Raglan, Piha or The Bar in Whangamata. There is a lot of local riders too so please respect the basic rules to avoid the problems.
Whether you're going to surf anywhere, try to read water before and check dangerous water streams before jumping into the water. If you do not have enough experience to evaluate the situation, get in touch with local or other riders. To learn more about this issue, read the article Sea Streams.
RECOMMENDATION
Before surfing for the first time it is a good idea to take at least one surf lesson from an instructor who will explain the basic principles of riding to you. Just a few hours with an instructor will make your time easier and you will avoid teaching yourself to commit bad mistakes that are difficult to remove later.
If you think that it is too expensive of an investment, try looking at the discount servers where you occasionally can find a special offer for around $30 per lesson. Believe that with a good instructor you can handle all the basic during the first 1.5-2h and then continue by yourself.
Enojy it!
Did you like this article?